ANGRAJAZZ 2018 [DAYs 1 & 2] - TERCEIRA ISLAND, AZORES, PORTUGAL, OCT 3 - 4
photography by © Clara Pereira / text by Filipe Freitas
From October 3 through 6, JazzTrail relocated to the Portuguese city of Angra do Heroísmo, Terceira Island, Azores, to cover the 20th anniversary of AngraJazz, an important occasion not only for the local people and the country but also for the jazz sphere itself. Mounted by an admirable and attentive organization, the four-day event was a showcase for a set of national and international jazz groups - three large ensembles, one trio, and three quartets - to speak their language and fill the avid ears of the attendees with a variety of jazz currents. A jazz photography exhibition and public jazz concerts throughout the city (Jazz Na Rua) were associated acts of the event.
The festival dealt with an unexpected setback when jazz singer Jazzmeia Horn cancelled her performance, being replaced in the last minute by New York-based Chilean guitarist/vocalist Camila Meza.
DAY 1 - oct 3
HOT CLUBE DE PORTUGAL JAZZ ORCHESTRA
The Hot Clube de Portugal Jazz Orchestra, launched in 1991, was the sole performance scheduled for the inaugural day. Under the zealous musical direction of Luis Cunha, the 17-piece ensemble interpreted songs by the Portuguese composer Antonio Pinho Vargas with arrangements from several of its members. They drew from their 2016 album A Dança dos Pássaros, whose program was presented here in full, only in a different order. Just like on the album, they started off with "General Complex", stirring a straightforward rhythm that got everyone engaged. Pianist Oscar Graça, imbued with a keen sense of lyricism and counter-rhythm, persuaded the audience with his charming vocabulary.
If "Do Cinema" exhibited a heroic posture by interweaving uptempo swinging jazz with punchy rock sections, then "A Dança dos Pássaros" brought a bit of the joyous spirit and rhythm from Africa. The band was also solid on pieces such as "Obscura Nebulosa", a mournful ballad with brushed drums and sunk in baritone sax; "La Corazon", a Latin jazz incursion; and "Tom Waits", with the horns speaking popish idioms. The bar was raised on the couple final pieces: "Movimento Parado das Arvores", in which a realistic sensation of wind was passed with the drummer's fine mallet work; and "Vilas Morenas", whose animated folk melody embarked on a marching dance with the chanting snare drum. Both pieces featured João Mortágua as a soloist, equally efficient on alto and soprano saxophones as well as in slow and fast environments.
DAY 2 - oct 4
ANGRAJAZZ ORCHESTRA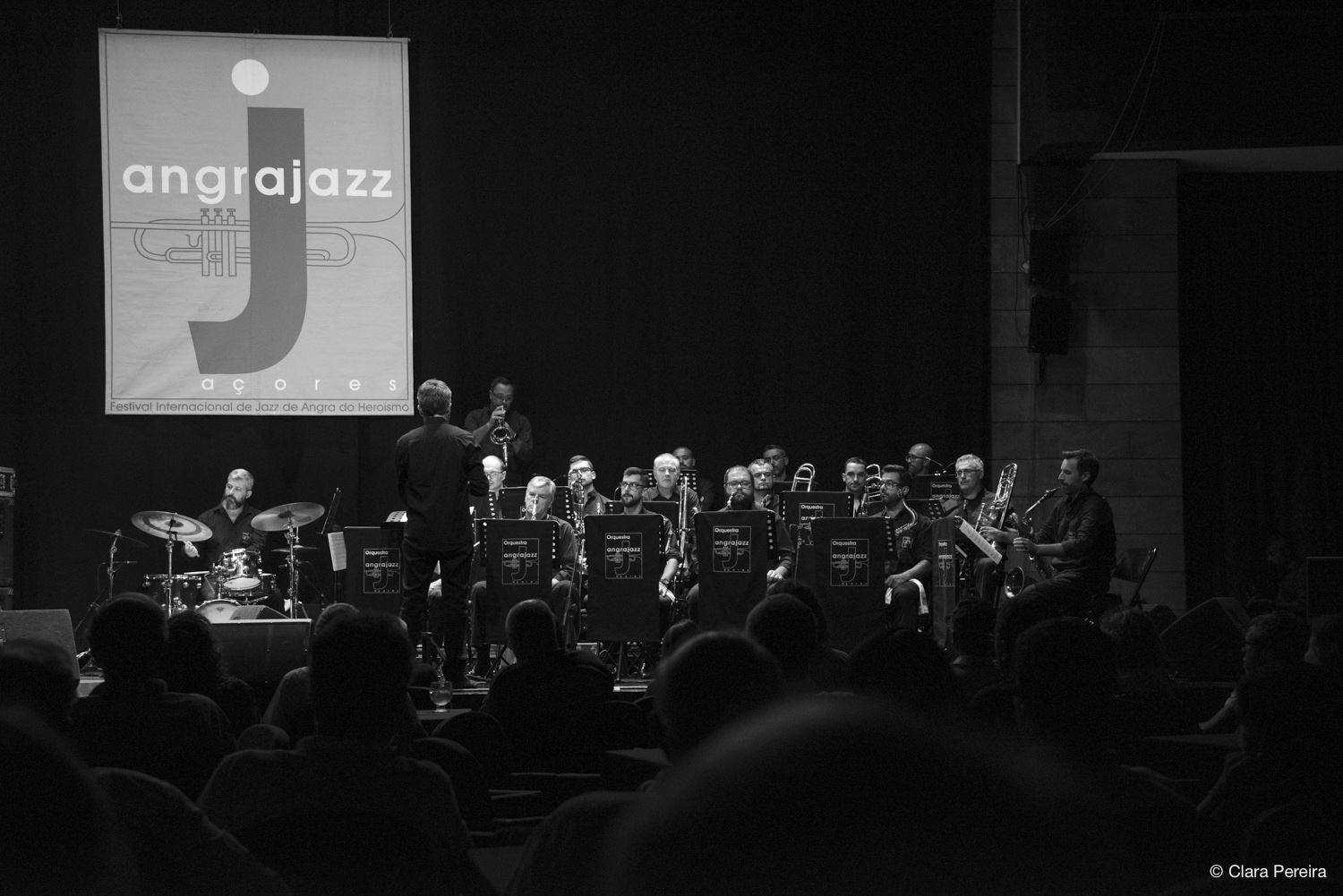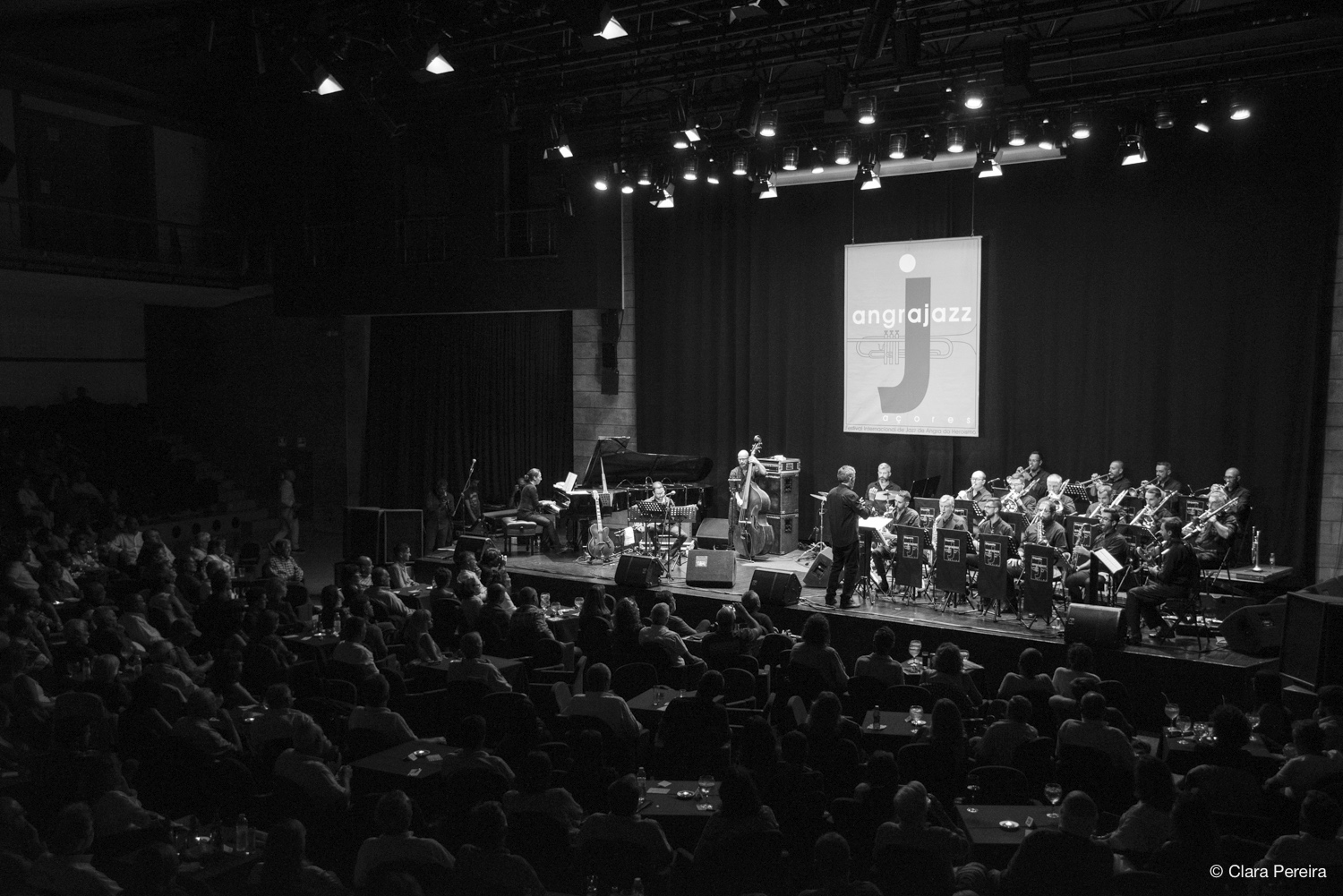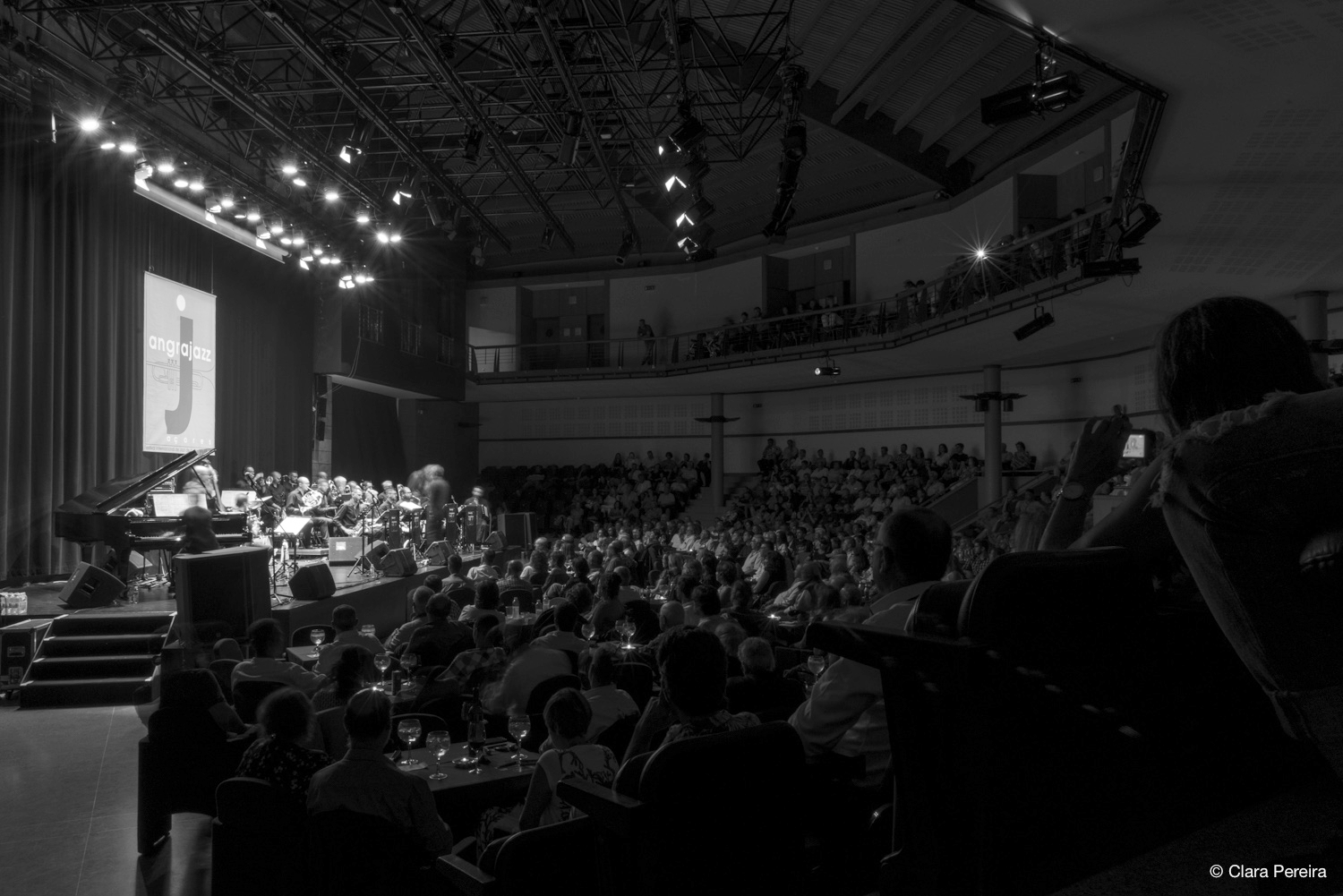 The local band, AngraJazz Orchestra, also presented the integral pieces that compose its debut album, precisely entitled AngraJazz. Despite revealing the expected limitations associated to a small island (its members are mainly from Terceira island), the ensemble, whose musical direction is shared by Pedro Moreira and Claus Nymark, incorporated some interesting ideas like merging the folkloric sound of the traditional 15-string guitar of the region with typical jazz arrangements. This was put in practice on a couple of tunes: "Ribeira da Barca" by Portuguese pianist Mario Laginha, and "Morte Que Mataste Lira", a traditional song composed and arranged by Moreira.
Guest singer Sara Miguel stepped on stage and entered acapella on the other traditional tune from Terceira Island, "O Sol Perguntou à Lua", this one arranged by Nymark.
The highlights, however, were "No Turno Noturno", a composition by Spanish saxophonist Jesus Santandreu, here subjected to a Mingus-like arrangement, and Ze Eduardo's "Gorgeous City", which offered some Monk's vivid pianistic tics, a bit of Latin groove, and swinging progressions.
The local people were visibly proud of their jazz orchestra.
The second night of the festival closed with the vertiginous rhythms and tempos of Cuban pianist Gonzalo Rubalcaba and his trio, which includes fellow countrymen Armando Gola on electric bass and Ludwig Afonso on drums. Displaying a remarkable agility with both hands and a masterful command of the post-bop and Afro-Cuban idioms, Rubalcaba captivated the audience since the very first minute through Pat Metheny's "Hermitage", which was delivered with superior melodic and rhythmic sensibilities. The trio attempted to defy gravity through intense, energetic tunes such as "Volcan", filled with intricate unisons and pulsating undertows for a more experimental post-bop setting; and "Sin Punto", notably funkified at its core while adhering to odd meters and a samba-like rhythm that restores the invigorating mood of Chick Corea's music from the late 60s and early 70s.
The pianist dove deep into his roots when interpreting "El Cadete Constitucional", a piece written in the 30s by his grandfather Jacobo Rubalcaba and previously recorded on the album Supernova (2001) with his former trio; and also Chucho Valdés' "Pónle La Clave", in which Gola helped to cultivate the fusion 'culture' by remaining in funk mode. The pianist ended the concert with one of his most emblematic compositions, "Nueva Cubana", leaving everyone in the room with a smile on the face and overflowing with energy.