ANGRAJAZZ 2017 [DAY 3] - TERCEIRA ISLAND, AZORES, PORTUGAL, OCT 6
photography by © Clara Pereira / text by Filipe Freitas
ENSEMBLE SUPER MODERNE
The Portuguese 8-piece Ensemble Super Moderne was in charge of the first set on Friday night, becoming a confirmation for the ones already familiar with their modern arrangements and personal sound, as well as a fantastic surprise for the ones (like myself) who were probing their music for the first time.
The band has José Pedro Coelho on tenor sax, Rui Teixeira on baritone sax and bass clarinet, José Soares on alto sax, Paulo Perfeito on trombone, Eurico Costa on guitar, Carlos Azevedo on piano and synth, Miguel Angelo on bass, and Mario Costa on drums.
For their liberal conception, sonic layering, and timbral variety, the tunes were effectively absorbed, with the following deserving a special mention: "Modern", an ingenious waltz adorned with succinct 4/4 swinging passages, sounded great for a detective story (Philip Marlowe style); "The Dreary Life of Pugnacious Cacti" conveyed a biting wit through an early collective cacophony but embraced noir-ish tones as soon as the bassist started his personal statement; and "Regui", a piece that accentuates the contagious Jamaican groove at the same time that opens space for the profound intonations of the baritone and the wild gusts of the drummer.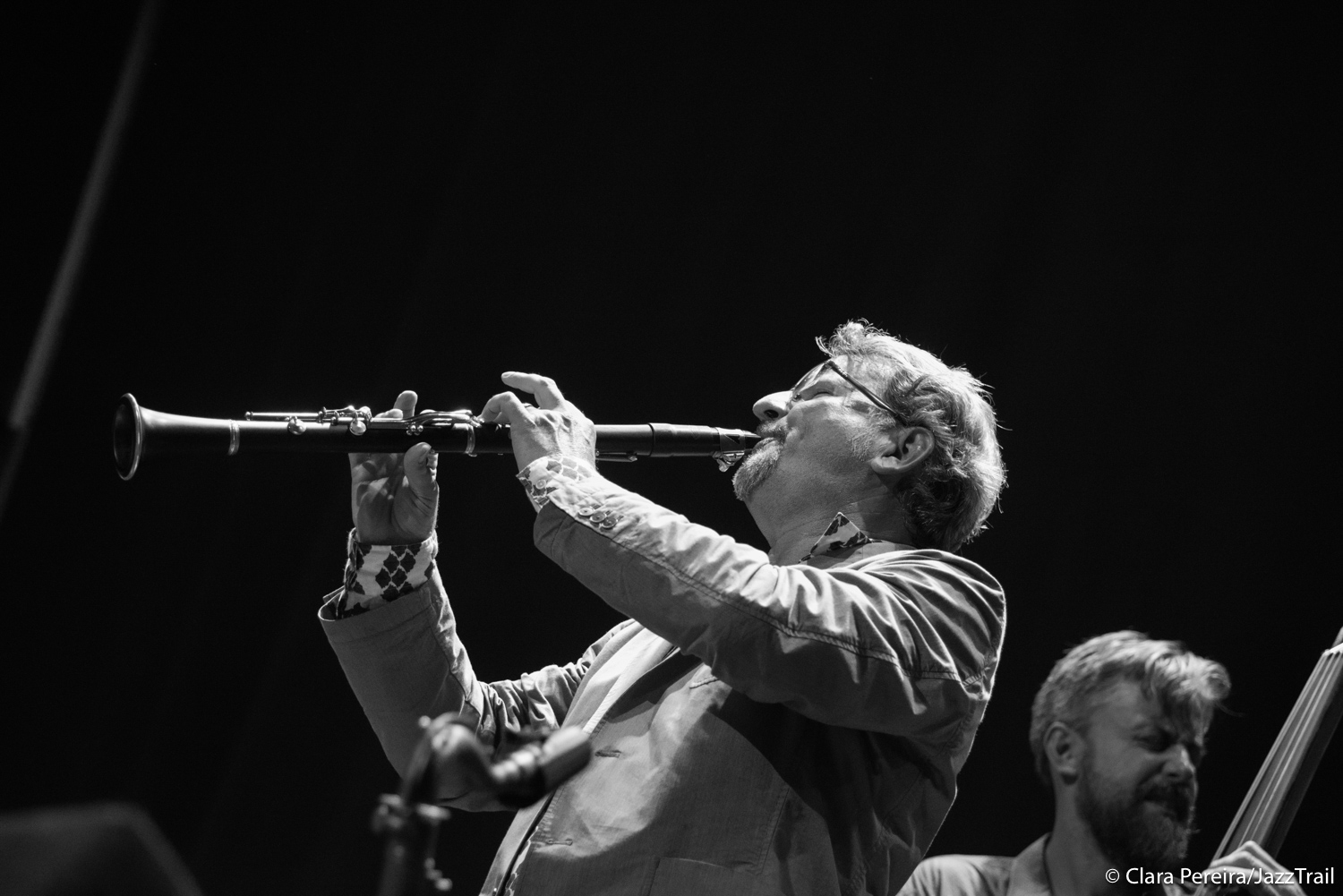 Brandishing all the genuine humor and outgoing posture that characterize his drumming and compositional style, the great Matt Wilson didn't disappoint, providing a truly vibrant performance. He led a majestic quartet whose in-demand members are respected bandleaders themselves: longtime collaborator Jeff Lederer on tenor saxophone and clarinet, Kirk Knuffke on cornet, and Chris Lightcap on acoustic bass.
"Arts & Crafts", featuring Lederer's improvisational euphoria, immediately and unequivocally demonstrated the power, unity, and pliancy of the group.
Butch Warren's "Barack Obama" came next, illuminated by a stunning bass solo upfront and thriving with sparking horn movements over the refined brushwork of the bandleader.
Whether soloing individually or immersed in concordant polyphony, Lederer and Knuffke always achieved a winsome poise when exteriorizing ideas, regardless the contrast observed in their approaches.
"Raga", a piece from 2003, spread strong Oriental aromas in the room, serving as a showcase for Wilson's inventive and highly expressive percussive techniques. In addition to the shakes, clangs, gongs, and mallet drumming employed here, the drummer stunned everyone when employing hip-hop snare drum scratches on "Man Bun", a rock-inflected composition that reminded me of "Blister in the Sun" by Violent Femmes. Before that, Jon Irabagon had borrowed Lederer's tenor to embark on a singular 3-horn blues ride with a rendition of "Pee Wee's Blues".
Wilson's deep fondness of poet Carl Sandburg's work was mirrored not only on the recent "Choose" (from his latest CD Honey and Salt), a military-like march packed with a sturdy avant-garde grip and striking improvisations, but also on "Bubbles", a composition from 2012 in which he recited the poem of the same name.
They closed the set with the exuberant rhythmic transitions and melodic transparency of "Thespian", a piece written by the hard-bop pianist Freddie Redd.
The attendants' faces reflected satisfaction in what was the most balanced, and probably strongest day of the festival.