bobby hutcherson's music celebration at st. peter's church - NYC, JAN 28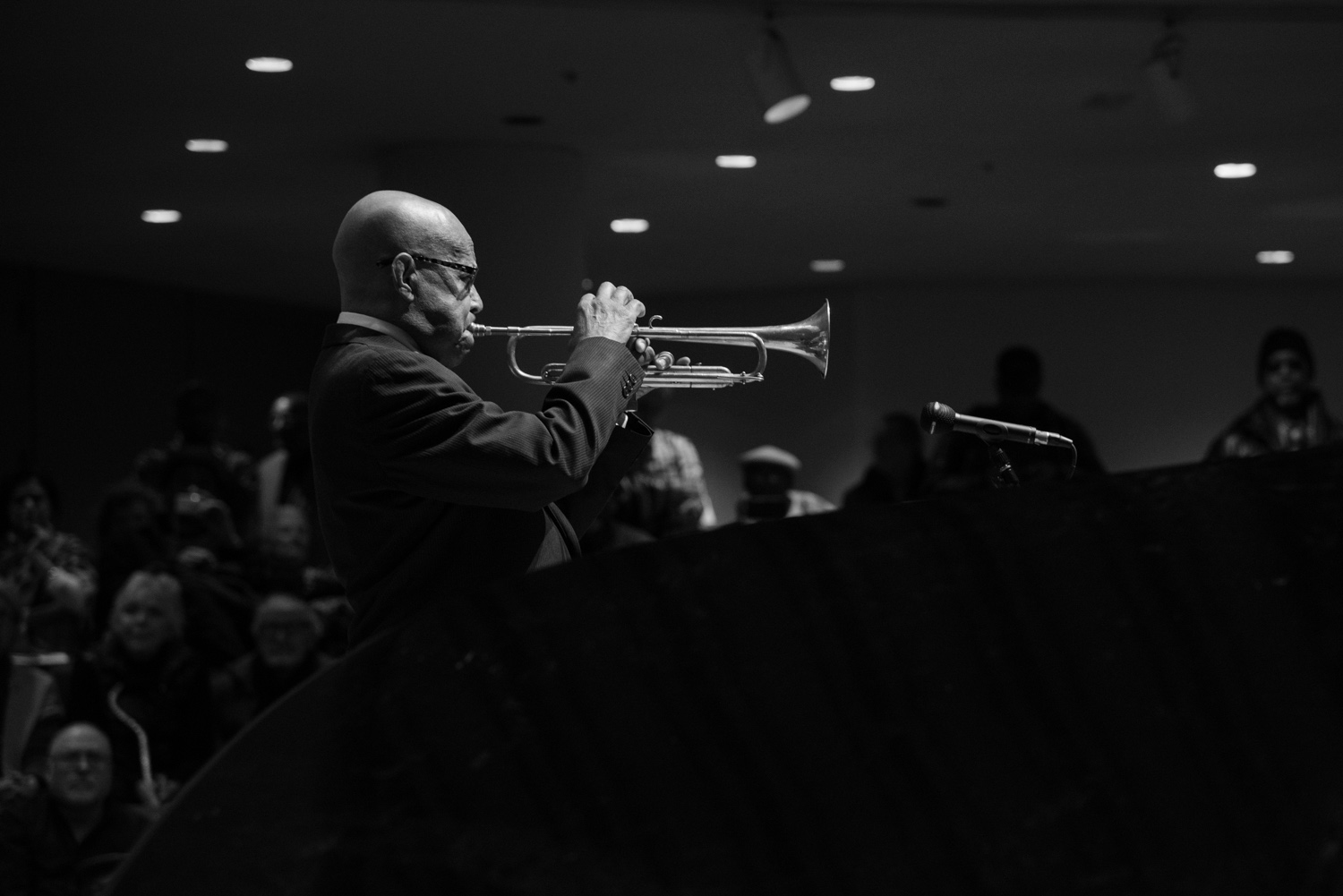 photography by Clara Pereira / text by Filipe Freitas
Iconic vibraphonist Bobby Hutcherson [1941-2016] was honored with a musical celebration colored by great performances of dearest fellows from different generations.
In addition to an incredible instrumentalist, Hutcherson was a master composer who left an indelible mark over the course of a rich five-decade career. Classic records like Dialogue, Components, Oblique, and Cirrus will be forever in my heart.
At the time we arrived at the packed St. Peter's Church, vibraphonist Joe Locke was reading something he had written for Hutcherson, an extremely impactful influence on him. On the stage, he had solid backup from an illustrious, accomplished trio: Kenny Barron on piano, Buster Williams on bass, and Victor Lewis on drums.
After Woody Shaw III has reminded us about the amazing relationship/collaboration between the honoree and his father, the great trumpeter Woody Shaw, a quintet enchanted us with a sentimental rendition of Hutcherson's "Little B's Poem". They were Dr. Eddie Henderson on trumpet, Joel Ross on vibes, George Cables on piano, Essiet Okon Essiet on bass, and Victor Lewis who kept holding the drummer's chair.
Later on, Joe Chambers, stepping on stage with mallets in hands, replaced Ross on the vibraphone to perform "Visions", a languid, visionary composition originally recorded in Hutcherson's 1979 album Spiral, in which he contributed as a drummer.
The event reached its boiling point with an experienced sextet composed of George Coleman on tenor saxophone, Steve Davis on trombone, Steve Nelson on vibraphone, Mike LeDonne on piano, Ray Drummond on bass, and Billy Drummond on drums. They were awesome as collective but also boasted their individual creativity, especially Coleman and Nelson who drew phenomenal improvisations.
Todd Cochrane, who recorded with Hutchinson once (Head On, 1971), led a piano trio whose bass and drums were entrusted to John Leftwich and Michael Carvin, respectively. Of the three tunes they dug, Monk's "Brilliant Corners" was the most applauded.
The event ended with an energetic quartet that featured vibraphonist Bill Ware, Colombian pianist Hector Martignon, ultra-percussive bassist Alex Blake, and the Cuban drummer Francisco Mela.
Attending in spirit, Hutchinson certainly approved the words and the music, and thanked his fellow musicians and the audience for the affection.