arts for art's evolving series at abrazo interno gallery - nyc, jan 17, 19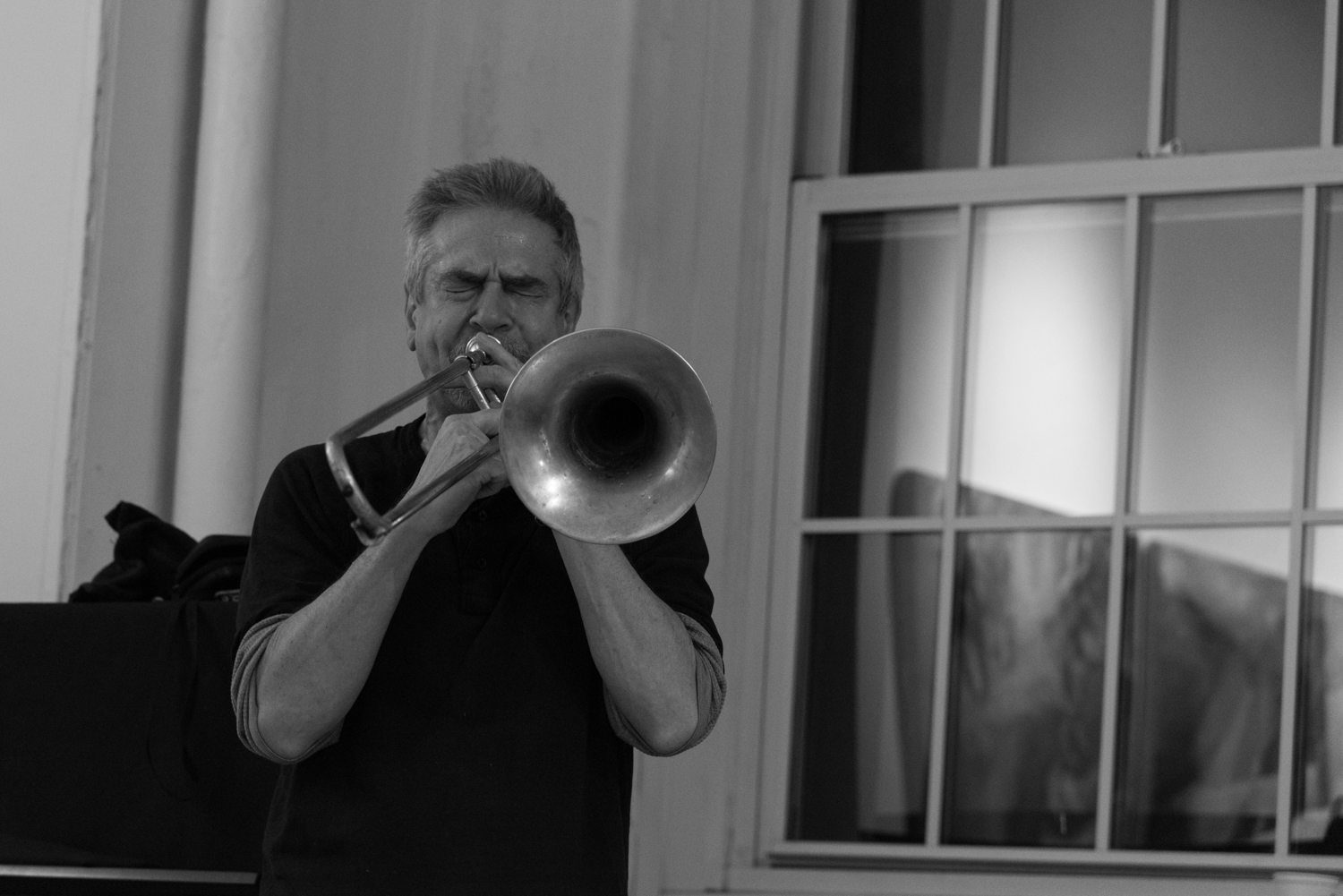 photography by Clara Pereira / text by Filipe Freitas
JazzTrail went to a couple nights of pungent free/avant jazz performances included in the Evolving Series: Justice is Compassion/Not a Police State, this year honoring the former Civil Rights Movement leader Martin Luther King and the trumpeter Roy Campbell.
The initiative belongs to Arts for Art whose cultural modalities are frequently associated with laudable sociopolitical causes.
Arts for Art is also the organization responsible for the Vision Festival, the most acclaimed Free Jazz showcase in the world.
Most of the performances, scheduled between January 2 and 22, took place at the Abrazo Interno Gallery, located in the Lower East Side, New York.
January 17
The winter cold was smothered by a modern creative trio composed of Daniel Carter on reeds and trumpet, Joe Fonda on acoustic bass, and Ehran Elisha on drums.
Resorting to multiple contraction-expansion techniques, the experimenters committed to their freeing nature with variations that ranged from suave melodic contortions and abstract textures to energizing soundscapes and ebullient rhythmic attacks. Even if the main goal was generating thought-provoking intersections, there was time for showing off some individual capabilities. Joe Fonda was particularly impressive, using often-disconcerting sounds through audacious bends and harmonics, adventurous bowing and pizzicato, and straightforward melodic obliques.

January 19
This particular day reserved us three sets – duo, trio, and quartet performances, all distinct in approach yet enveloped in an undeniable musical quality.
The duo Jay Clayton (vocals) and Ken Filiano (acoustic bass) was the first to step in.
The vocalist, who often incurs in unexpected changes of pitch, offered this performance to the jazz singer, poet, and composer Jeanne Lee and the pianist Connie Crothers, who unfortunately are not among us anymore.
Aided by technology in the form of loops, well-timed bass effects, and vocal overdubbing, the pair started timidly but managed to overcome that initial stage with great fun, in a continuous crescendo. The performance's highest point was an impeccable rendition of a rollicking tune by Ornette Coleman.
Steve Swell Trio was next. Joining the trombonist, who contaminated the air with his garrulous improvisations, were the keenly penetrating saxophonist Joe McPhee and the thunderously polyrhythmic Norwegian drummer Paal Nilssen-Love, who formed the vertexes of the explosive triangle.
This bellicose team, alternating between minimalist and dense, embarked on incessant explorations by inquiring, shouting, whispering, and confronting the audience with their unstoppable forcefulness.
The last set brought us Afro-Horn, a project led by the drummer Francisco Mora Catlett who convened the soprano saxophonist Sam Newsome, tuba player Bob Stewart, and percussionist Roman Diaz to fulfill his intents.
The result is a romping blend of African rhythms and avant-garde transfusions. Newsome's dominion of the soprano is exposed through Coltrane-inspired motifs and long high-pitched notes sustained by circular breathe. Stewart is simply brilliant, playing with intuition and drawing energizing vibes from the cavernous tones of his tuba. Motivated, the percussive unit responds with aplomb. A Max Roach's tune, the widely known "Strange Fruit", and a piece from Newsome's album Straight Horn of Africa peppered this freedom manifesto.
What I describe above was only a fragment of a fantastic initiative that promotes freedom and artistic creativity with heart and passion.
Here's a small list of other inveterate creators and music liberals that performed in these series:
William Parker, Chris Potter, Gerald Cleaver, Pheeroan akLaff, Ingrid Laubrock, Tom Rainey, Jon Irabagon, Cooper-Moore, Aruan Ortiz, James Brandon Lewis, Anthony Pirog, Tony Malaby, Rob Brown, Darius Jones, Whit Dickey, Michael Attias, Kirk Knuffke, Hamid Drake, Henry Grimes, and many more.