DOUBLE-BILL AT SOUND IT OUT CONCERT SERIES WITH JOSH SINTON'S PREDICATE TRIO + AVRAM FEFER/SEAN CONLY/MICHAEL WIMBERLY, nyc, NOV 10
photography by ©Clara Pereira / text by Filipe Freitas
On Saturday, November 10, the Sound It Out concert series, whose attractive avant-jazz program is curated by music journalist and producer Bradley Bambarger, presented a double-bill with chord-less new trios led by multi-reedists Josh Sinton and Avram Fefer.
JOSH SINTON'S PREDICATE TRIO
Blowing his baritone saxophone and bass clarinet with vehemence, Josh Sinton led his Predicate Trio with energy, sharing the bandstand with the bold cellist Chris Hoffman and classy drummer Tom Rainey. The concert was a showcase for their fresh released CD, Making Bones…, now out on Iluso Records.
The band had a vigorous departure with "Blockblockblock", which started stiff and cavernous until the leaping high-pitched exertions of the baritonist were laid on top of methodical cello slashes. There was a curious percussive dialogue between Hoffman and Rainey, who manipulates the mallets with a quasi-ritualistic practice and incredible taste.
"Unreliable Mirrors" was put in motion by cello's string taps, brushed drums, and bass clarinet's fragmentations phrased with occasional overtones and rich melody. This tune went through several distinct phases, including solo cello incisions with string bends and clamorous effects, a dark interaction between cello and mallet percussion, and clarinet cries over an expanded rock-based foundation. It ends solemnly, though, as a result of Rainey's marching snare drum.
"Bell-ell-ell-ell-Ells" went from a raucous oriental dance to a groove-centered passage led by bari sax, evolving to a cacophonous outbreak marked by intense sax trills, strident bowed cello, and exuberant drum chops.
Before delivering "A Dance", a wandering number dedicated to one of his all-time favorite dancers, Sinton introduces and praises the musicians playing with him, stating: 'this is why I moved here!"
The concert ended with muscle and vibrancy with a nearly 3-minute collective outburst.
AVRAM FEFER / SEAN CONLY / MICHAEL WIMBERLY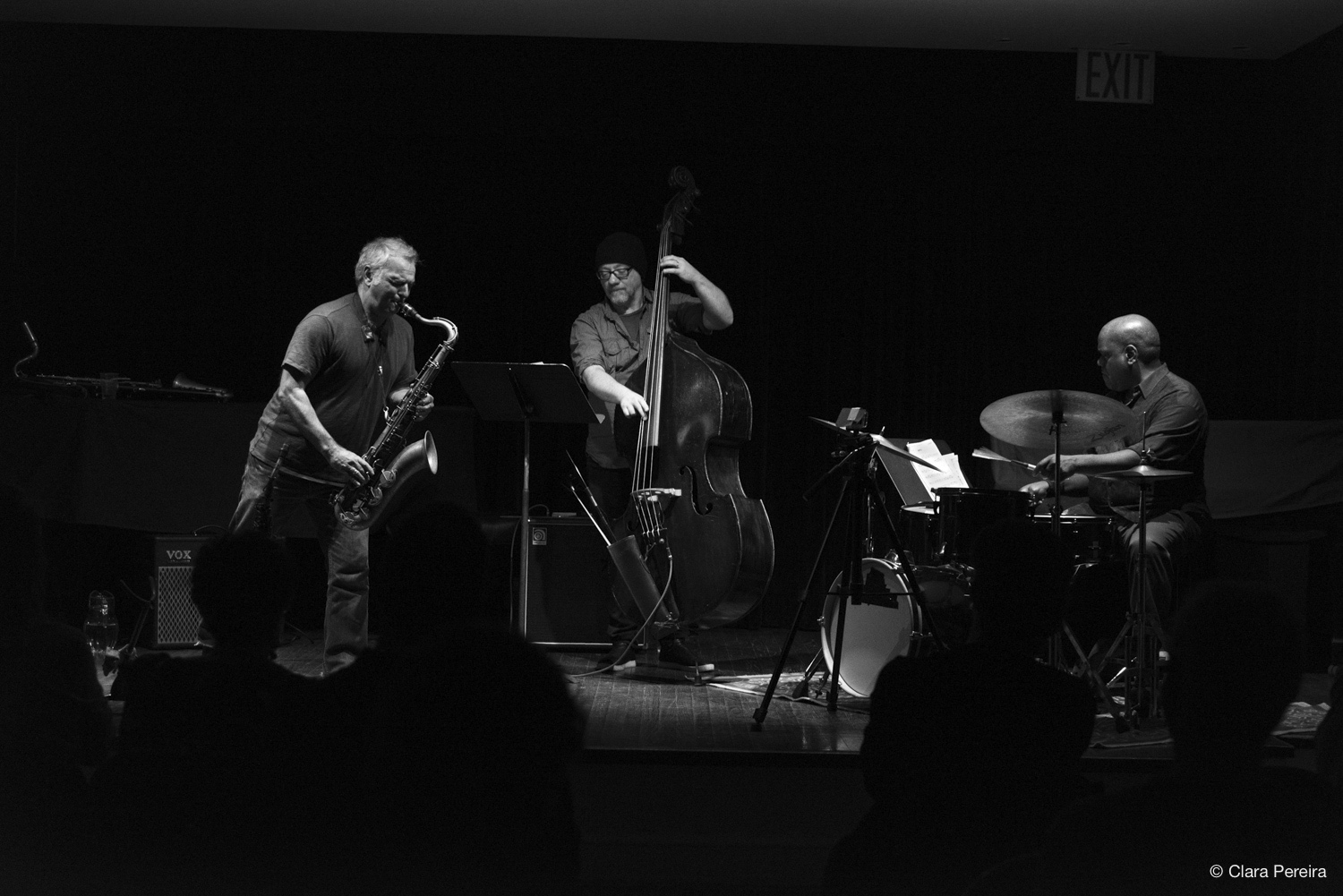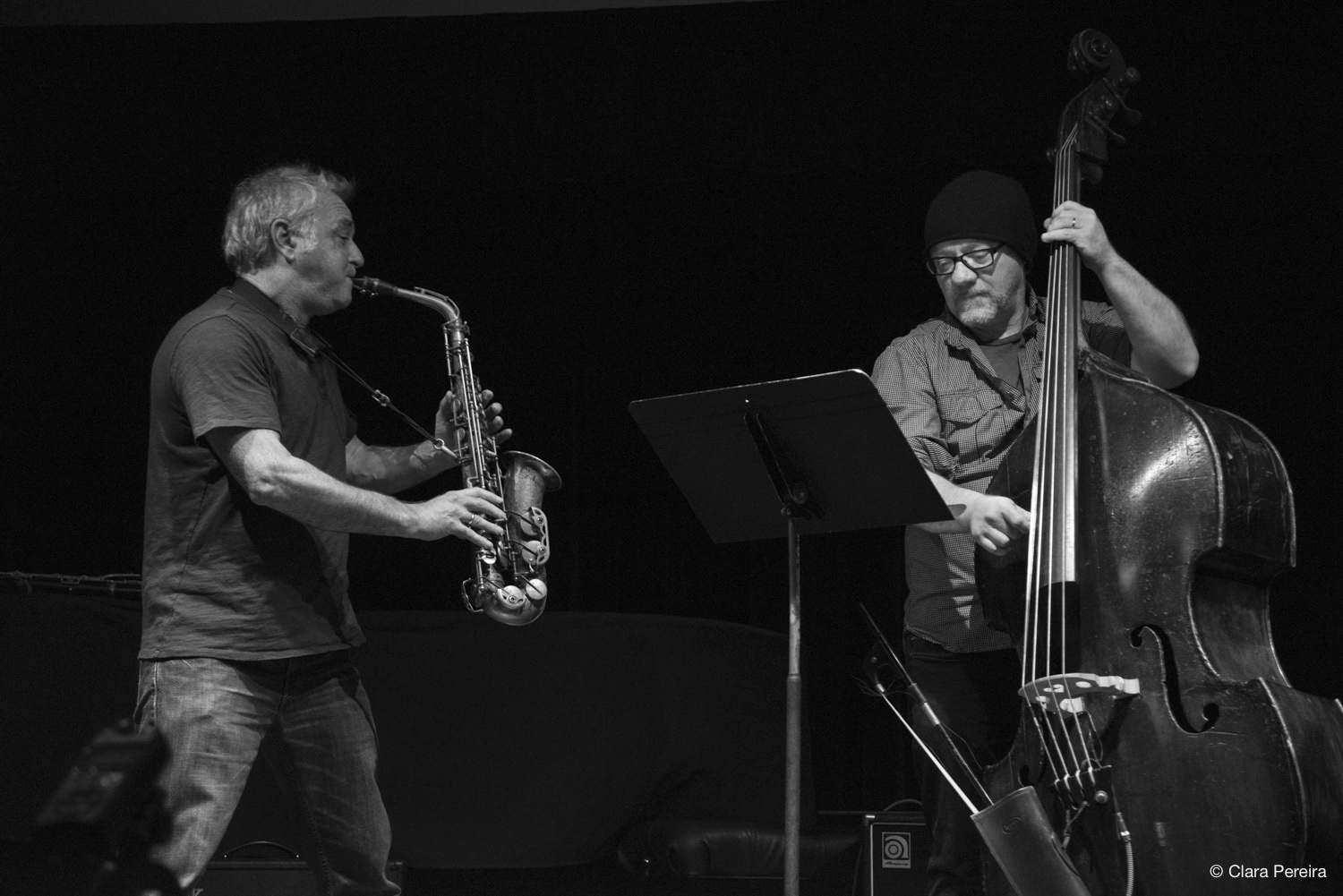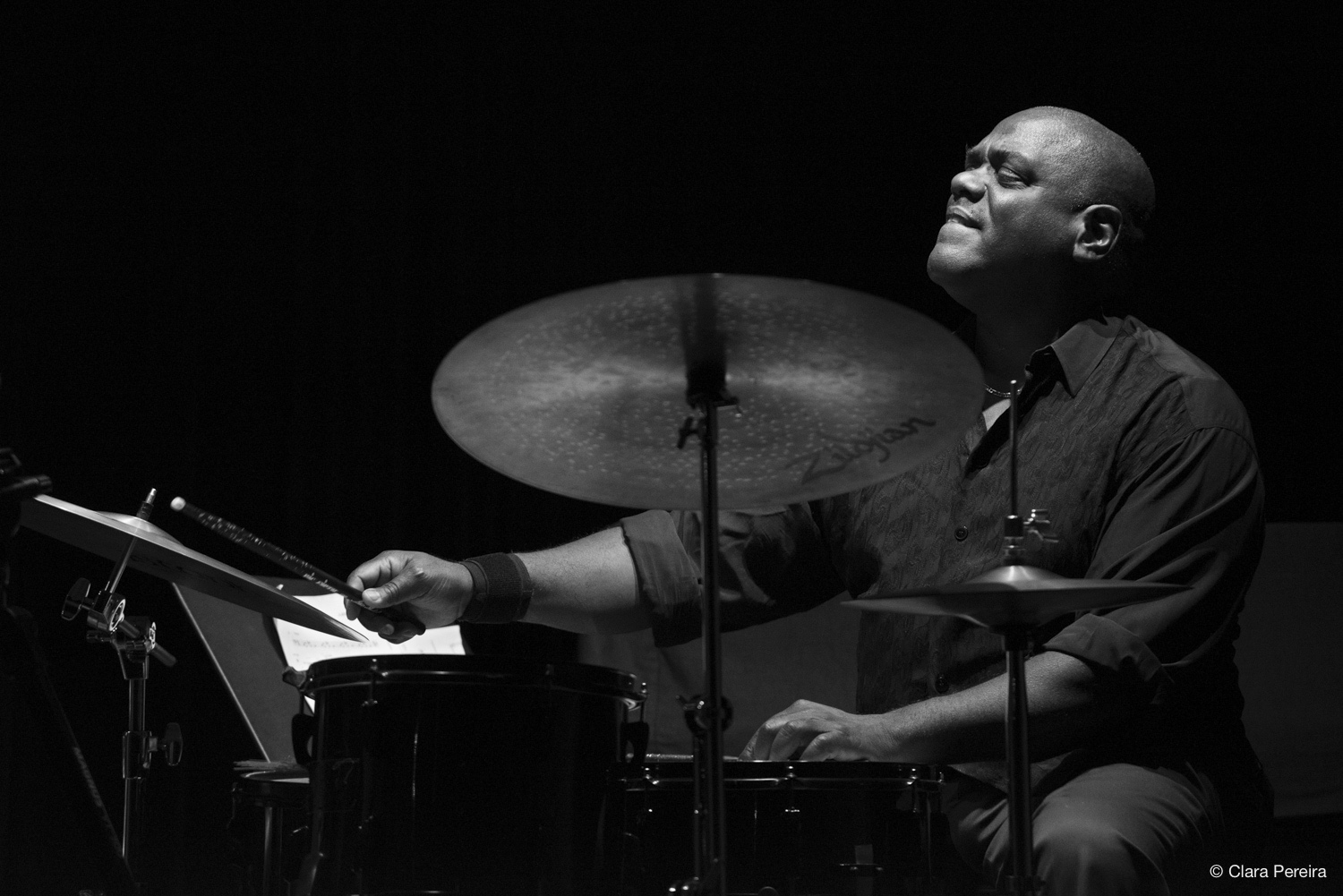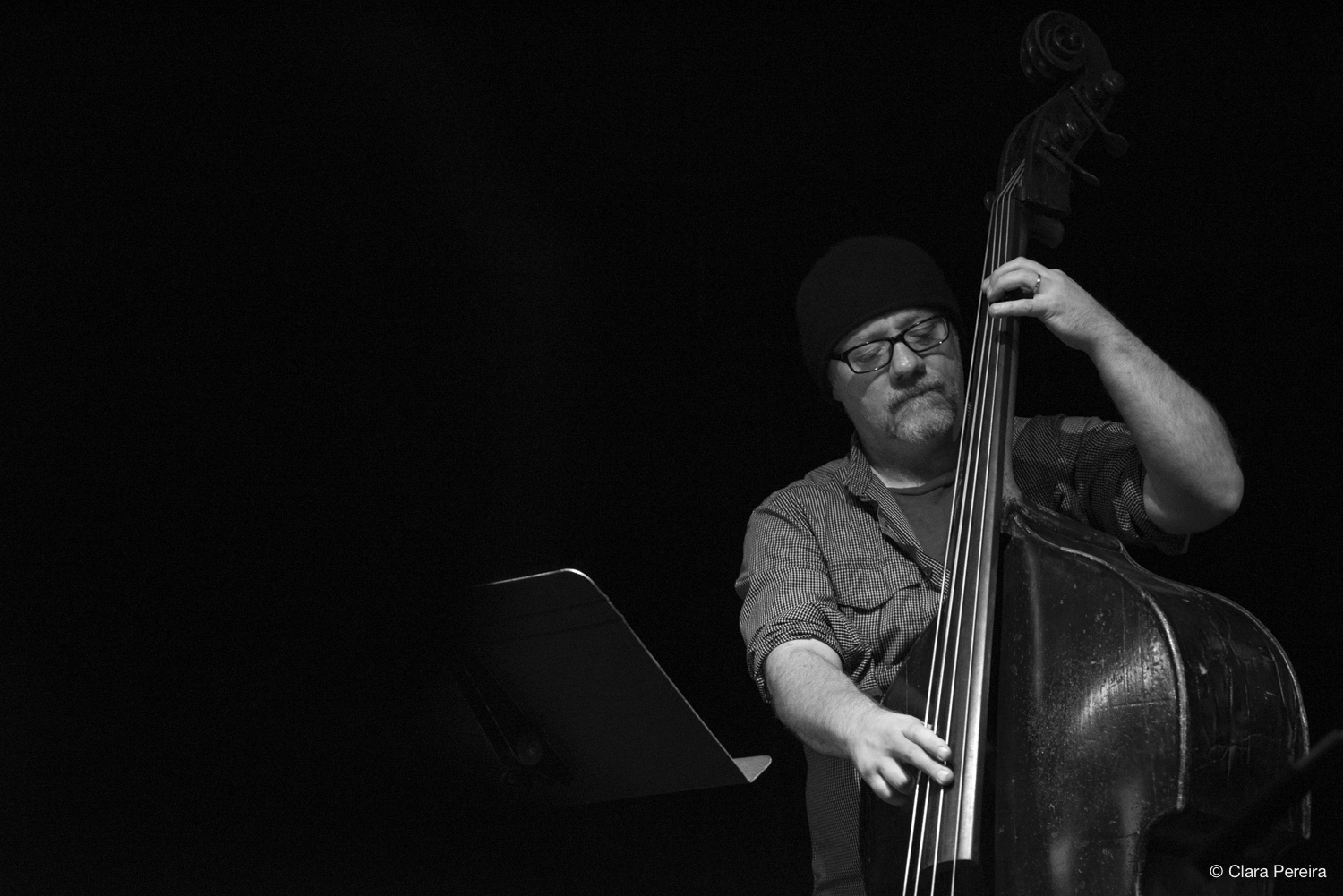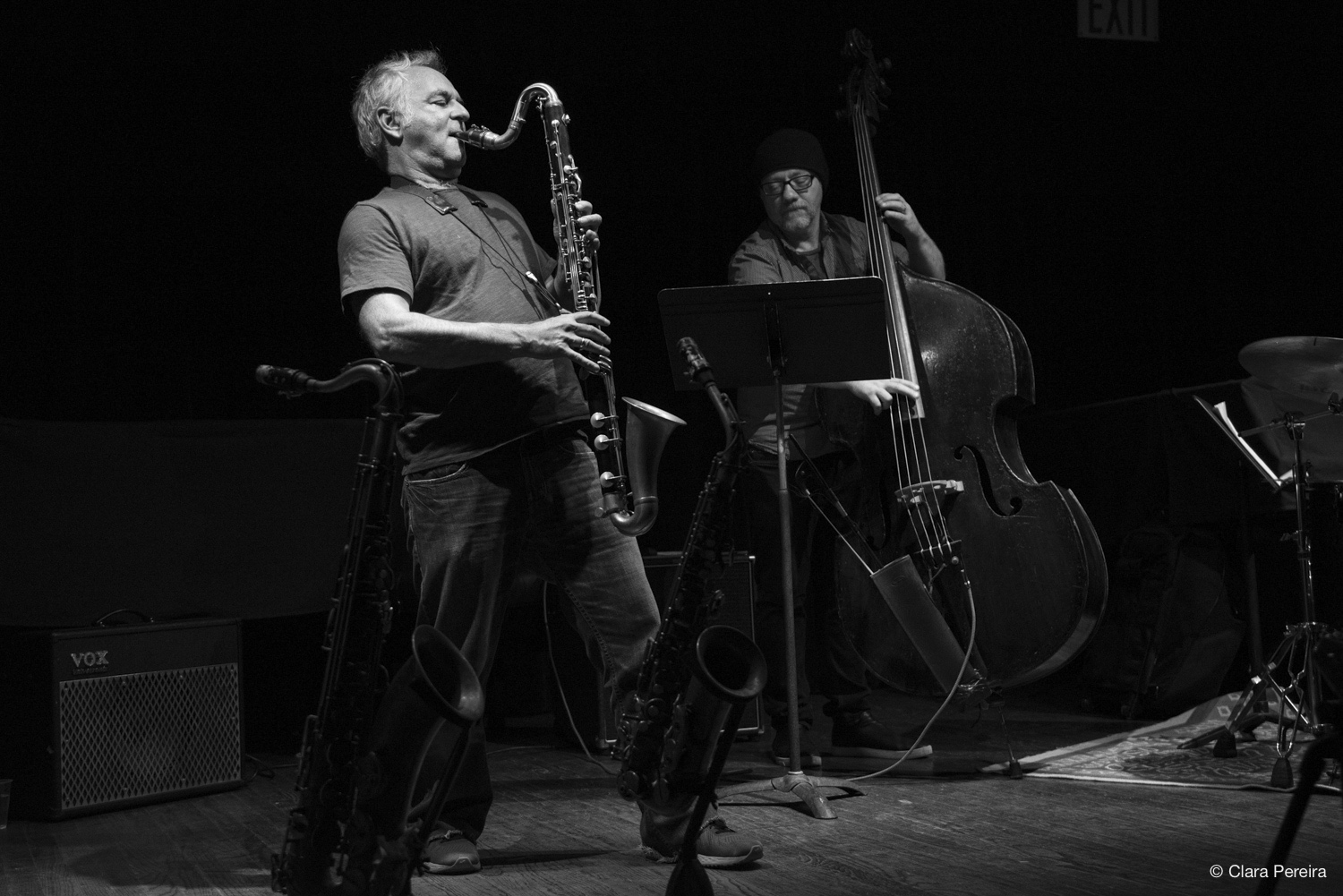 The spectacular pirouettes of well-versed saxophonist Avram Fefer found solid ground in the tight work by Sean Conly and Michael Wimberly on bass and drums, respectively. Although drawing mostly from his trio albums, Ritual (2009) and Eliyahu (2011), the saxophonist kicked off with "BC Reverie", an old piece for bass clarinet, which he commanded with a gutsy liveliness. However, while talking to him after the concert, he disclosed a problem with his bass clarinet, which, I believe, no one in the audience noticed.
Because they are breathtaking pieces, the incessantly grooving "Club Foot" and the significantly motivic "Testament" took the concert to a boiling point. Rhythmically and melodically captivating, both compositions were fired up by Fefer's alto, which brims with the spiritual influence of Ornette Coleman, Albert Ayler, John Coltrane, and Archie Shepp. The flexible rhythm team was not there just to assist; hence, both Conly and Wimberly did a first-rate job whenever called to improvise.
The audience was already fascinated, but the peak of the concert coincided with the gracious final piece, "Essaouira", an exotic fusion of avant-garde jazz and West African music inspired by a visit to Morocco in 2001 and the Gnaoua Festival.
Visibly having fun on stage, the trio didn't show any signs of trouble in channeling the positive vibes that had arisen from their driving motivation.
It was another awesome Sound It Out night in the Village.