stephan crump's rhombal at Cornelia St Cafe - NYC, apr 22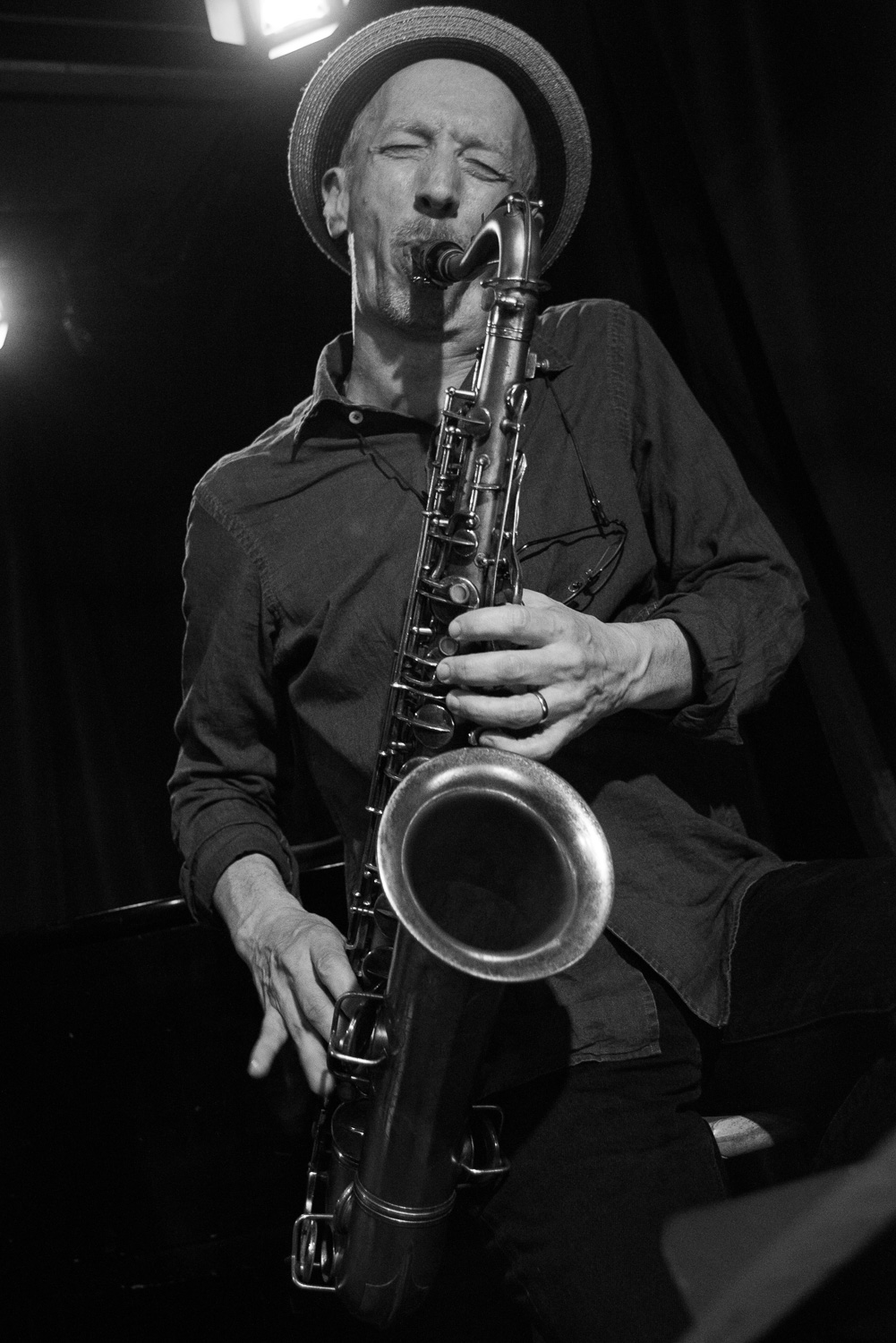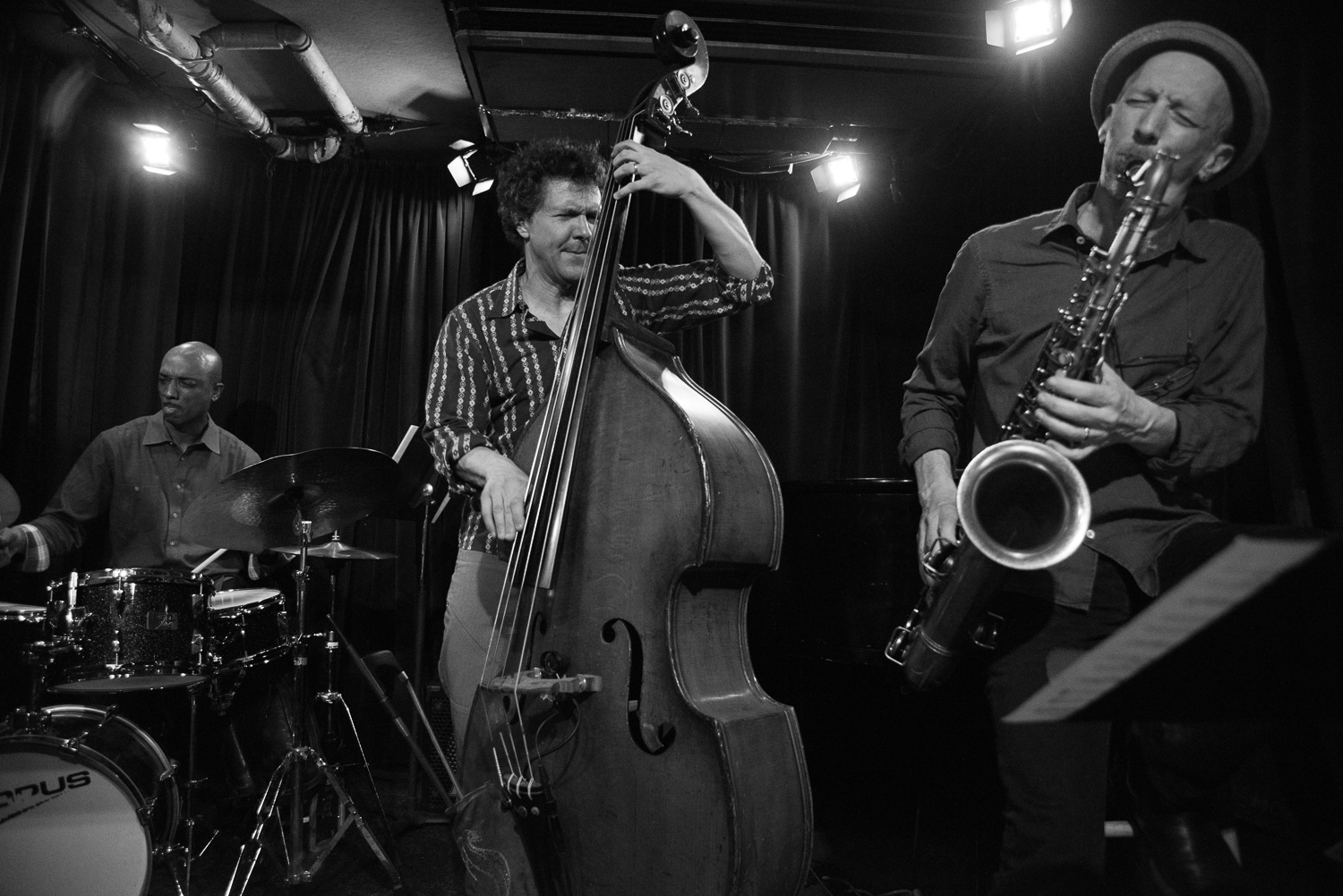 photography by Clara Pereira / text by Filipe Freitas
Rhombal is the name of the fresh quartet put together by the bassist Stephan Crump, who relied on the drummer Tyshawn Sorey and a frontline composed by the astute Ellery Eskelin on tenor saxophone and the ingenious Adam O'Farrill on trumpet.
Recently, the band has been in the studio recording these tunes, which will be featured in the album 'Brothers', to be released next September.
Crump's compositions were written for his late brother, Patrick.
In terms of line-up, one alteration was made for this concert, though. The drummer Eric McPherson replaced Tyshawn Sorey.
The opening tune alludes to urban scenarios and starts stalwart with Crump's welcoming bass making room for O'Farrill slight punctuations and McPherson's earnest accents. The head, played in unison by the pair of reeds, anticipates Eskelin's well-built solo, which I would describe as a glowing monologue of variable intensity. The opportune O'Farrill catches Eskellin's last phrase and, in hoarse tones, gives continuity to his idea. In the pocket, Crump and McPhearson ensured the steady double-tempo.
The next tune, 'Grovi', is a melodious funk piece that rambles through open spaces while engulfs us with warm breezes. The rhythm section was edgy and fitting for the soloists' ravishing improvisations.
'Loose Bay' opens with distinct melodies of trumpet and sax, a soft vamp that soon takes imperious contours with the syncopated dance drawn by the breathing bass and the shuffling percussion. The mysterious mood is gripping, a perfect ground for O'farrill's lachrymose solo. Eskelin, in turn, creates a jittery frisson with his streaming cadences.
For 'Skippaningam', Crump sought inspiration on his kids' energy after their strolls together, and indeed, we can have that idea through the fast swing, clearly grounded in the old hard bop. These frolicking vibes naturally evolve to way more explorative territories with the amicable and counterpointing horn duel between Eskelin and O'Farril.
Finishing the first set, 'Eskima Dream' is another funky groove primarily delineated by the pulsating rhythm section. Without rushing, both saxophone and trumpet claim their space in the feast.
The second set opens with 'Birdwhistle', a danceable piece with Latin touches, which is immediately followed by 'How Close Are You?', a slow tune stabilized by the delicacy of Crump's bass line and McPherson's drumming brush. The concert comes to an end with a poised tune of broken rhythms, whose melody and arrangement invite us to a different universe, closer to pop music.
Simultaneously expansive and intimate, as well as open loose and ponder, the tunes of 'Brothers' let us foresee a great record. These guys are no joke and their music is commendable.