THOMAS STRONEN'S TIME IS A BLIND GUIDE at THE SCANDINAVIA HOUSE, nyc, JUN 28
photography by ©Clara Pereira / text by Filipe Freitas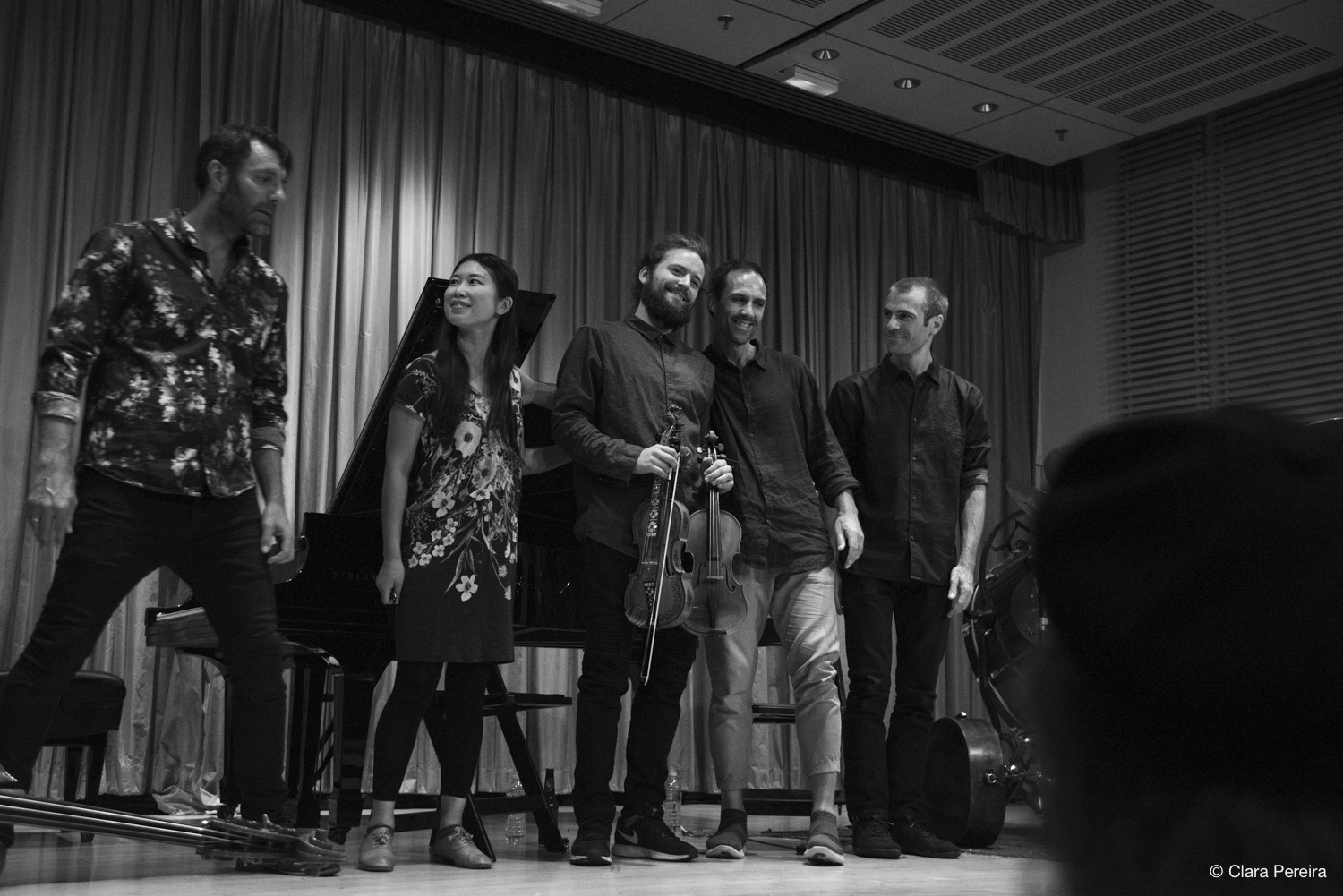 The consummate Norwegian drummer/composer Thomas Stronen took his Time Is A Blind Guide group to the Scandinavia House in Manhattan to promote their latest ECM outing, Lucus. Stronen was thrilled with his return to a site he had played before and with this American tour, for which he counted on Japanese pianist Ayumi Tanaka and Norwegian violinist Hakon Aase, both featured on the cited record, as well as Swedish cellist Leo Svensson Sander and Norwegian bassist Mats Eilertsen, who replaced Lucy Railton and Ole Morten Vagan, respectively.
The quintet started off in a suite-equivalent mode with three consecutive pieces: "La Bella", "Friday" and "Release", creating idyllic chamber ambiances that, although reserved at times, were able to expand into denser textures permeated by classical, avant-jazz, and new music.
The erudition of these exquisite hybrid sections filled the room with variable intensities as a genuine product of the tight ensemble playing. The bandleader stunned the audience through high-quality rhythmic fluxes built with percussion mallets, brushes, different kinds of drumsticks, gongs, cymbal scratches, and shakers. The string section, elegantly synchronized in its bowed and pizzicato actions, worked in tandem, creating beautiful passages often escorted by a simmering sense of groove, while Ms. Tanaka brought excitement and tension with frequent muted notes and occasional string sweeps. Yet, the silences made perfect sense to me on "Lucus".
Cross-cultural pollination was very welcome on the grooving "Islay" and on a Chinese-influenced piece featuring a trio of pizzicato melodies. It was curious to see how the string players could suddenly be turned into rhythm supporters through agile percussive maneuvers. Speaking of percussion, Stronen's sole yet spectacular improvisation was mesmerizing. Definitely a highlight of the concert.
Both the group's musicality and level of professionalism achieved high standards in a tour de force performance where the contemporary chamber music sounded as great as the record.