VISION FESTIVAL 2019: ANDREW CYRILLE's LIFETIME ACHIEVEMENT CELEBRATION, ROULETTE, BROOKLYN, jun 11
photography by © Clara Pereira / text by Filipe Freitas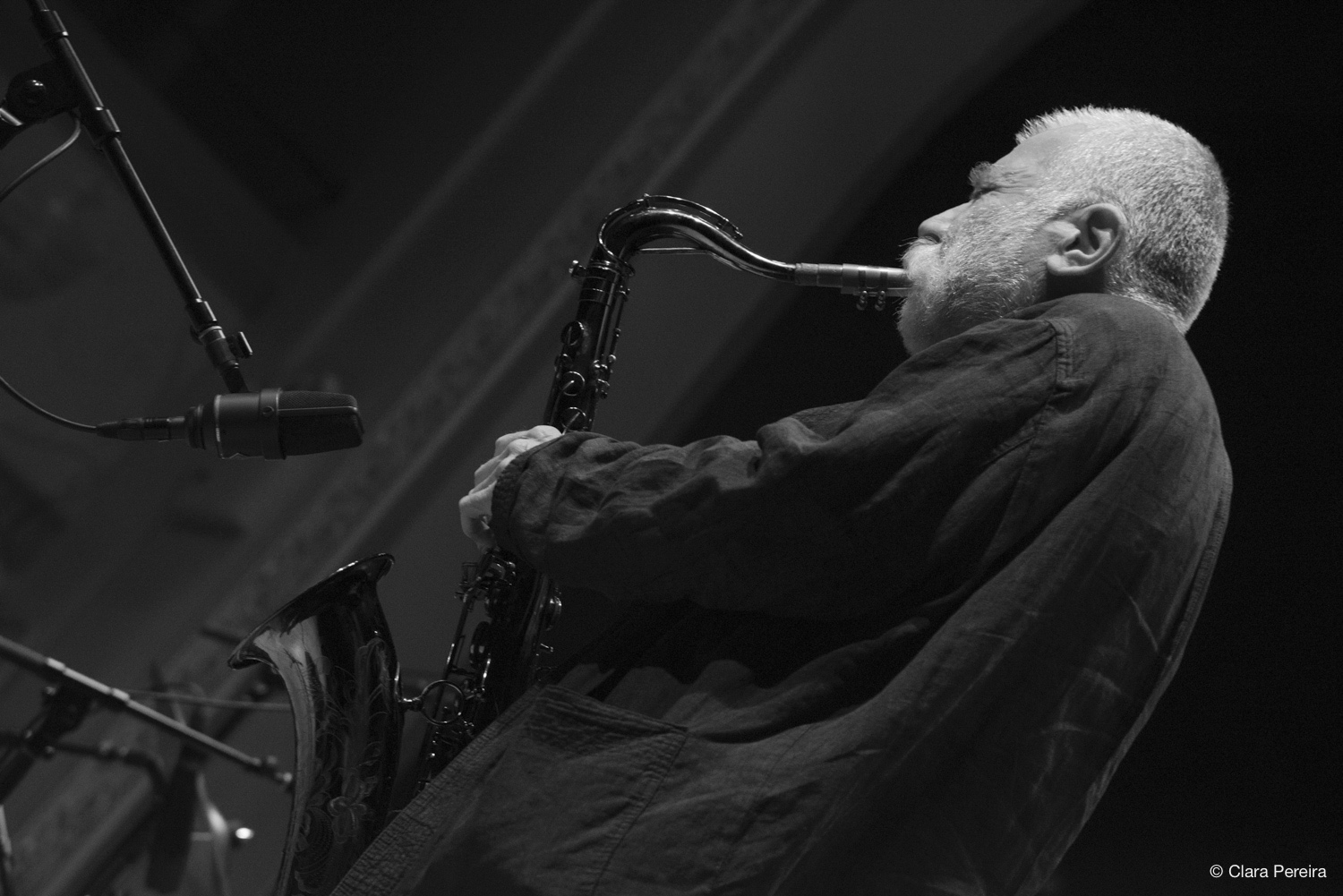 Multigenerational jazz stars aligned on Roulette Intermedium's stage for the 2019 edition of the Vision Festival, New York's biggest free-jazz occurrence. For 24 years now, the annual event has been a favorite among improvisers, avant-garde artists, and open-minded listeners who champion freedom of expression in its many artistic forms. The festival calls attention to the art itself as well as to the socio-political problems of our times. This year's Lifetime Achievement recognition was deservedly granted to the unique, legendary drummer Andrew Cyrille, whose career spans for more than 50 years. His unconventional way of driving rhythms conceded him a spot among the best drum players in jazz history.
The commemoration was divided into two programs, each of which including four performances. Due to other commitments, we could only cover the second program, yet we did everything to catch sight of 'the dialogue of the drums' established between the honoree and Milford Graves, another living legend. The polyrhythmic feast was fun, having mallets crossing with drumsticks, and expressive African chants enlivened by a range of percussive techniques, including face slapping and hand drumming. Cyrille told some funny stories that involved Graves and thanked him for being part of his life. Conditioned by health problems, Graves admitted that playing that night had been a tough decision, but he did for Andrew and for the Vision Festival. A profound silence suddenly invaded the room… it was a touching moment that brought Graves to tears and led to a gigantic applause.
Program 2 kicked in at 9 PM with the first of the three duo performances listed. Berlin-born visual artist Stefan Roloff joined Cyrille on the stage to present their Big Fire collaboration for the first time before an audience. The original work dates back to 1984, but the anti-violence message, visible in the well-synchronized digital projection, remains valid and strong.
In their succinct yet mesmerizing performance, Lebroba Trio kept the trumpet-guitar-drums configuration, even with the absence of master guitarist Bill Frisell. Cyrille and the trumpet phenom Wadada Leo Smith decided to aggregate Brandon Ross and the music didn't lose any of that deeply rooted blues/folk tradition their debut album had demonstrated. The trio got things started in grand fashion and with a highly exploratory caliber. Wadada's unmatchable attacks found rhythmic consistency in Cyrille's dry snare rat-a-tat and kinetic cymbal work, while the harmonic variety was ensured by Ross's ambient drones and controlled little explosions surrounded by gorgeous electronic effects. The musicians then settled into a more spacious tune with "Pretty Beauty", whose radiant reflective tones ascended to a spiritual dimension. The public rejoiced with it!
Vocalist Lisa Sokolov enthralled the crowd by confidently projecting her supple voice, at once personal and profound, with a steadfast improvisatory vein. Occasionally scatting with tonal authority and investing in the power of the words with theatrical flamboyance, Sokolov and Cyrille killed it through their borderless approach to music. She also played the piano in the concluding section, sticking to an ostinato that seemed to continue the cadence started before with the words 'broken…open'.
The most expected moment of the night was the duo Andrew Cyrille/Peter Brotzmann, which will be fondly remembered for its potency and tenacity. Impelled by a supernatural driving force, the German saxophonist created an authentic avalanche of sound by throwing in Ayler-inspired folk melodies mixed with flutter tonguing outpourings on top of the invertebrate rhythmic propulsion of the drummer. This furious tempest was softened considerably when he switched from tenor to clarinet, inclining his playing to an Eastern mood packed with semitones and sinuous itineraries. This constant source of energy fueled a tour-de-force performance to be remembered by many.